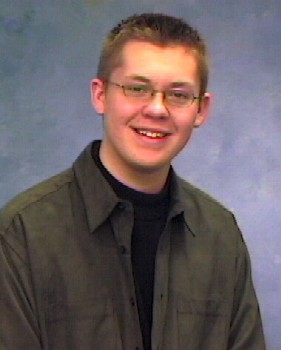 Jacob

Jacob is a freshman at U of I, Springfield, where he has already changed his major twice. He is active in the University's choir, as well as his church choir. Jacob continues his involvement in plays and musicals. He was a citizen of Thebes, in the University's production of "Oedipus", where he received a wonderful review in the Springfield paper.
Jacob recently finished performing in the Community production of "Best Little Whorehouse in Texas". This summer he has a part in the Springfield Muni's production of "Annie Warbucks".
Other community musicals and plays he's been in are; Musicals - "Beauty and the Beast", "The Adventures of Tom Sawyer", "Oklahoma", "Lil Abner". Plays - "Your Obedient Servant, Abe Lincoln", "Up the Down Staircase" and "Short Attention Span".
High school productions he has been in are: The doctor in "Fools" (3/2005), The Beast in "Beauty and the Beast" (11/2004), Daddy Warbucks in "Annie" (3/2004), Lazar Wolf in "Fiddler on the Roof (3/2003).
Jacob enjoys listening to his CD's, watching movies, playing on the computer as well as playing video games. Jacob holds the rank of blue first in taekwondo.

Jacob's Websites
Springfield Muni
Theatre in the Park
Springfield Theatre Center
Hoogland Center for the Arts
U of I Springfield